FSU Libraries use data to drive its decision making to improve access, services, and collections for the FSU population.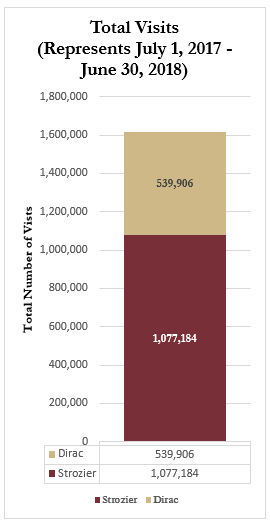 Total Visits: During July 1, 2017 – June 30, 2018 there were 557,868 visits to Dirac library and 1,082,126 visits to Strozier library, with a total of 1,639,994 visits to both libraries.
Total Unique Visits: 48,478
(Represents July 1, 2017 - June 30, 2018)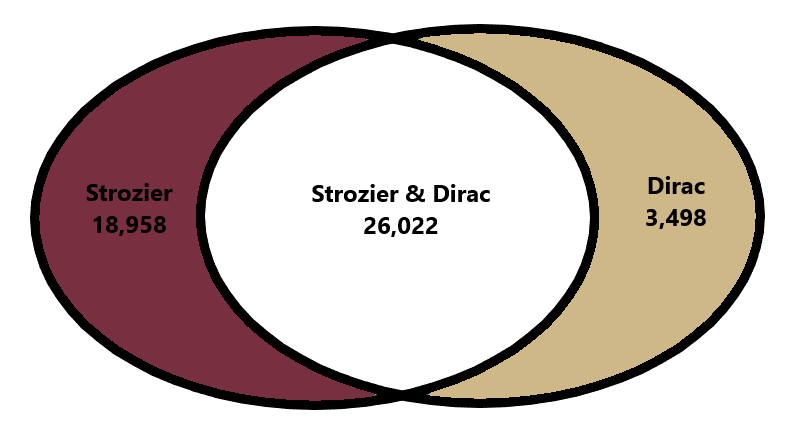 Dirac had a total of 3,498 unique visits. Strozier had a total of 18,958 unique visits. Dirac and Strozier had a total of 26,022 unique visits.There was a total of 48,478 unique visits for both Strozier and/or Dirac.
*Unique library visit= Everyone who went to the Dirac/Strozier once. For example if a student with card number 005 visited Dirac 5 times they will appear only once for unique visits. In another example, if another student went to Dirac and Strozier they will be counted once for the category Strozier & Dirac.
Unique Visit Count Limitations:
Guest cards: The limitations of this unique count includes guest cards counted once. It is hard to know if the person using the guest card also came in that year without also using their own card for a visit at some point. Guest cards: it depends on how many guest cards are in circulation at any one time and how much of them get replaced over the course of year—it is possible that the same student use two different guest cards get counted as a unique visit).
Instability of FSU IDs: Plus, students who have to get their FSU ID cards replaced get assigned a new card number each time. For example, if a student with card number 005 came into the library Jan 5th and lost their card and got a new card number 006 and came into the library Jan 10th ; that student would be counted twice. This means if a student got a new card number  (Beginning this March, FSU card numbers will no longer be reported from cCure to calculate turnstile/card swipe counts, EmplIDS will be collected which remain stable, even if a person loses their FSU Card.)
October is the busiest month for both libraries in the fall, followed by April in the spring.  February is the third busiest month in Dirac and Strozier, followed closely by November. August is the month with the least visits in both Libraries. There is a 79% drop in visits when comparing the busiest month (Oct.) to the least busy month (August) for both libraries.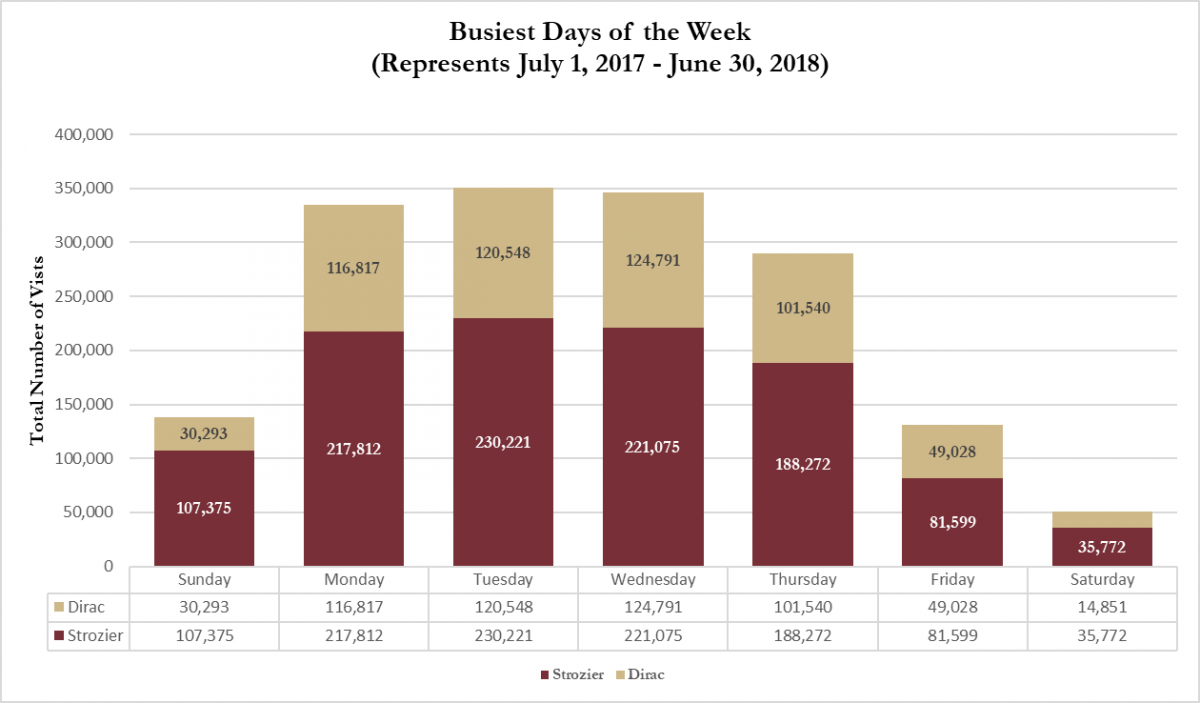 For FY 2017-18, the busiest day of the week is Tuesday for Strozier and Wednesday for Dirac, although for both libraries Monday, Tuesday, and Wednesdays are the busiest days of the week. From the busiest day in Strozier (Tuesday) to the slowest day (Saturday), there is an 84% drop in number of visits. From the busiest day in Dirac (Wednesday) to the least visited day in Dirac (Saturday) there was an 88% drop in the number of visits.
A great university requires a great library.